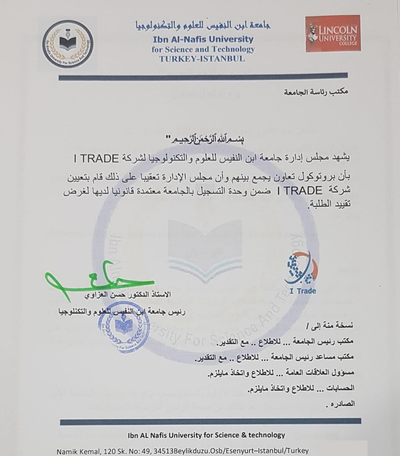 A protocol has been arranged and signed between
Ibn AlNafis University and I TRADE
to officially manage and register students around the world directly with the University and to be an official:
"Students Registration Unit"
Following are all information needed to know more
Ibn AlNafis University.
A signed agreement of scientific cooperation and academic accreditation between
Ibn AlNafis University for Science and Technology,
based in Istanbul, Turkey, and the University of Lincoln Malaysia, on February 3, 2019 According to which
Ibn AlNafis
University obtained a scientific partnership, where all bachelor's, master's and doctoral programs in Malaysia are applied on students in Turkey who get their certificates From Malaysia approved and attested from the
Lincolin University,the Ministry of Higher Education and the Malaysian Ministry of Foreign Affairs.
About Lincoln University:
https://www.lincoln.edu.my

Lincoln University College
is one of the premier private institutions of higher education approved by the Ministry of Higher Education and Malaysian Qualifications Agency (MQA- National Accreditation Board). The University College is also crowned with 5 Star ranking by the Ministry of Higher Education, Malaysia in 2017. Lincoln University College is listed among the top nine Malaysian universities according to the Times Higher Education (THE) University Impact Rankings 2019. LUC is also an ISO 9001:2015 certified academic institution. Lincoln University College is also the associate member of the 'Association of Indian Universities (AIU)', Association of Commonwealth Universities (ACU), London and a member of 'International Association of Universities (IAU)', Paris.
Registration Terms:
Student is officially registered in Lincolin University and will have its electronic encrypted card (hard copy) that can use to login into the University of Lincoln's electronic scientific library, which is rich in scientific and medical references.
No need for any test to register , no YÖS or Sat needed, only you high school certification ,
Facilities at Ibn AlNafis University:
Multi Languages improvement :At Ibn AlNafis University, we care about our students and work on facilitating their studies, and starting from this role, we gathered a professional stuff of Arabic Academic professors with long experience in the education sector.Therefore, we prepared for our students inclusive languages courses to ameliorate their studies, a full program of Turkish and English language free of charge as a sort of encouragement and support, in addition to the Arabic language,mother tongue.
Competitive prices :reaching a rate of 50 % less than private Turkish universities
Studies : can be in English for scientific faculties and in Arabic for human studies
Admission, registration and study programs: directly from Lincolin university
Spacious classrooms equipped with the latest technology in addition to advanced laboratories
Providing educational hospital for medical group training.